Wood Skimboards are ideal for beginners, they are inexpensive, extremely durable, and the easiest of all Skimboards to learn on.
Wood Skimboards provide more flex than intermediate fibreglass/foam and pro carbon fibre Skimboards, are easier to control and turn and more forgiving on the joints.
Wood Skimbaords are more challenging to snap than the more expensive fibreglass and foam Skimboards, which require a certain skill level to take advantage of the extra stiffness. However, most Intermediate and Pro Skimboarders start on a flexible wooden deck perfect for learning the sport and developing skills into the intermediate levels.
If you're new to Skimboarding or want an inexpensive Skimboard that's up to the job and will provide many hours of fun, look no further than a wood Skimboard.
Click Here For Wood Skimboards Prices & Availability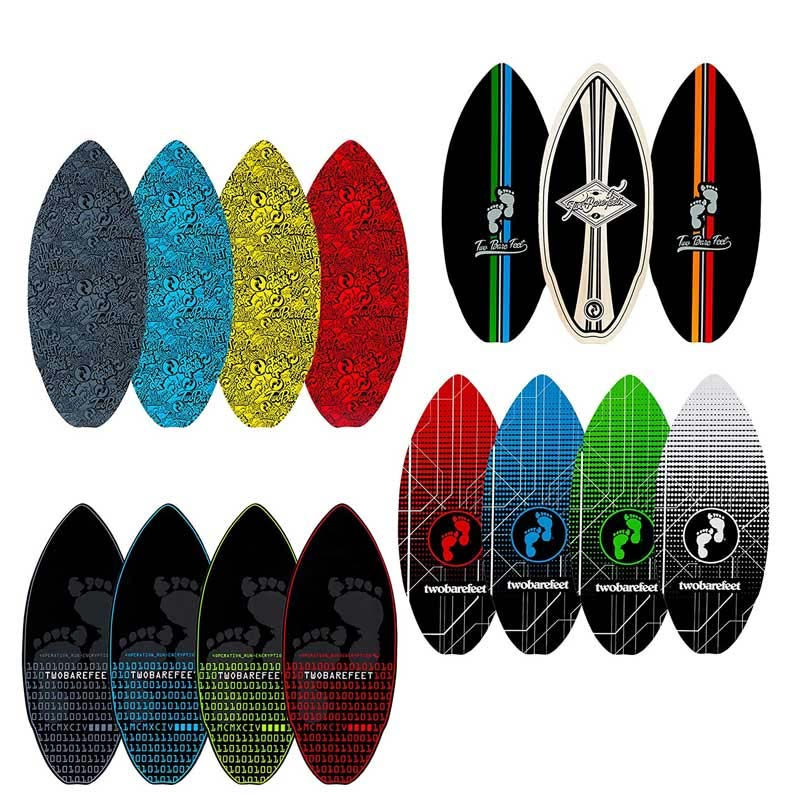 Most wood Skimboards require wax (unless there's a built-in EVA grip or traction pad). Make sure you have some to hand otherwise, you won't be able to ride your new board.
Wood Skimboards Include
Atom
The Atom is a compact 35″, the ideal size for children, teens and even light adults. The deck has a flat tail and is constructed from treated multilayered plywood.
BPS Gator
BPS Gator Skimboards are constructed from epoxy-coated waterproof plywood and incorporate a round tail. The deck is EVA coated, so you don't need wax.
Three sizes are available 30″, 35″ and 40″ to accommodate all rider weights.
Circle One Wood Skimboards
Circle One Wood Skimboards have been made in collaboration with the Australian Board Company. The board is constructed from multilayered marine plywood with a gloss finish varnish. The Skimboard has a round tail and is available in sizes 30″ and 39″ in the colours red, blue or turtle.
DB Skimboards
DB wood skimboards are excellent for riders who prefer more flex with a 3-ply hard rock maple deck than a standard 5-ply. The extra flex makes the Skimboard easy to manoeuvre and is very soft on the joints.
DB also offer standard 5-ply Skimboards, which are still more flexible than many other wood Skimboards, usually 7 and 9-ply.
DB decks are coated in grippy diamond EVA (no wax required) and are available in various lengths.
Decathlon Radbug
The Decathlon Radbug works for all riders 55kg and over. The perfect wood Skimboard for teens and adults, whether at the beginner or intermediate stage.
The Radbug has a swallow tail which excels at turning.
Sandfish
The DB Sandfish is a premium quality wooden Skimboard that's brilliant for tricks and sand skimming—constructed from flexible poplar and laminate. The decks are coated with a soft grip foam, so no wax is needed.
Available in 3 sizes 35″, 40″ and 45″
Osprey
Osprey Skimboards are medium flex and constructed from treated 7-ply poplar plywood. The deck is 41″ long with a pintail, making the ride smooth and stable. Suitable for both adults and children.
Saltrock Swallow Tail
The Saltrock Swallow Tail provides slightly better turning than a standard pin and round tail wood Skimboards while holding up well when it comes to speed. A good choice if turns are a priority in your Sandskimming.
Skim One EVA Deck
Skim One EVA Deck skimboards are made from mid-flex 7-ply poplar, a good deck for balance and turning. Although the Skim One is a waxless Skimboard, the surface is coated with EVA foam.
41″ in length and suitable for riders up to 90 kg.
Two Bare Feet
Two Bare Feet offer Skimboards with Swallowtails (better for turning) or Pintails (better for skimming long in straight lines). Both are made from 7-ply poplar wood and feature a pre-curved nose.
Available in lengths of 37″ and 41″ in multiple designs.
Victoria Woody
The Victoria Woody is constructed from Russian birch hardwood with polyester resin. The deck has a low rocker and pintail gliding good distances and can ride small waves.
Multiple lengths are available to cater to all weight classes from 30-210lbs.