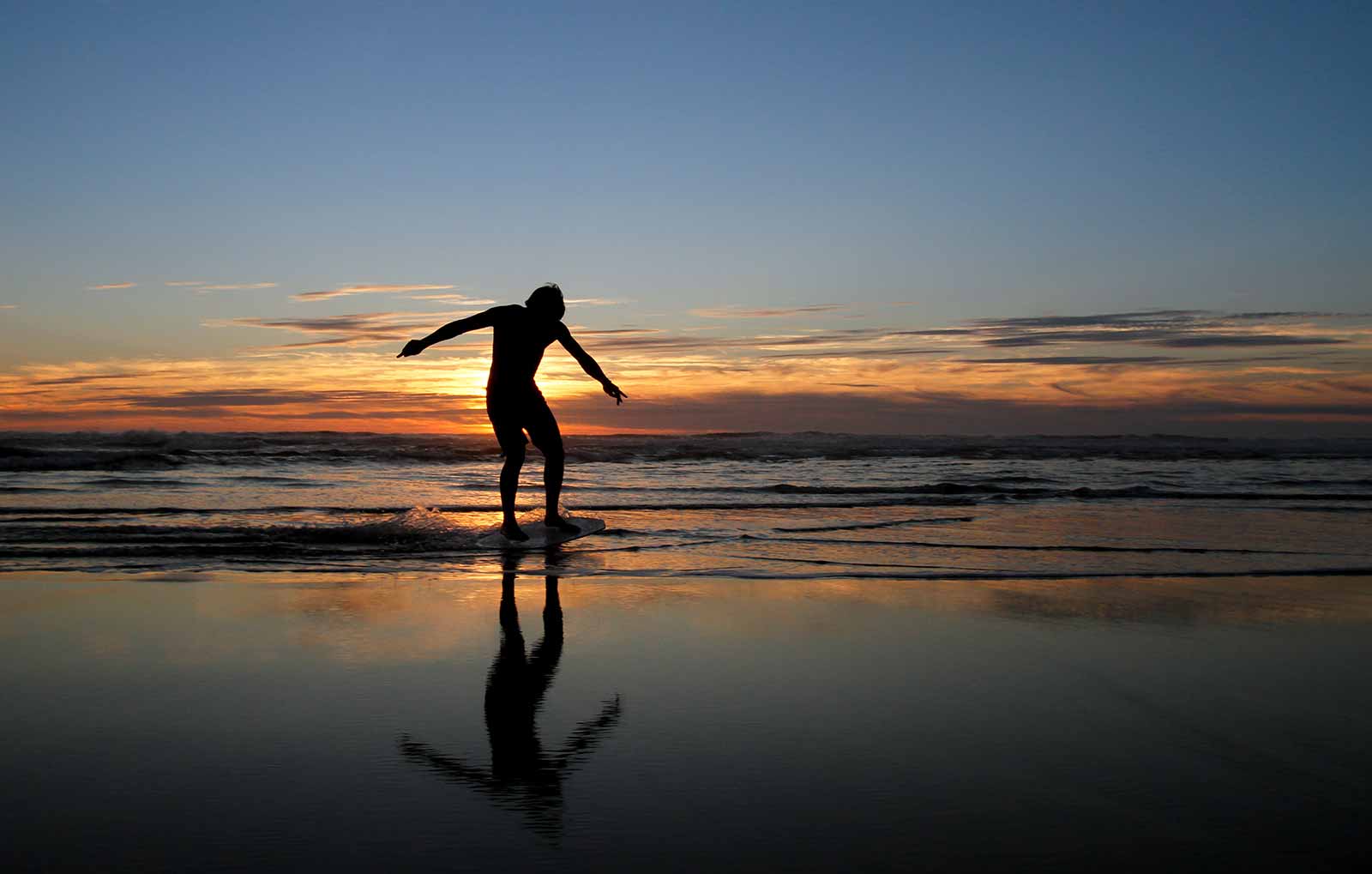 ---
Welcome to Skimboarder
We feature a huge range of Skimboards in various shapes and sizes from top companies like Zap, Osprey, Exile, Victoria and Circle One in all materials including wood, carbon and fibreglass.
---
Quick Links
Featured Skimboards
Skimboards
Skimboard Wax
Skimboard Accessories

Where To Skimboard In The UK
A list of suitable Skimboarding beaches in the UK
What Is Skimboarding?
The Sport of Skimboarding was spawned in the 1920s at Laguna Beach in Southern California. Frustrated local lifeguards George and Jimmy couldn't surf fast and shallow shore breaks.
The Skimboard was created, a finless, flat circle built from Redwood.
The original Skimboarders had to be towed by a boat it wasn't until 40 years later that the design changed to an oval shape. Now the local Skimboarders could run and drop the board onto the thin wash at the water's edge by stepping on the board they could use the momentum to ride out to an incoming wave and back again.
---
Skimboarding can be done anywhere not only the beach all that's needed is a flat area with shallow water. At some point, inland Skimboarding (also known as 'Flatland') became a thing on lakes and rivers. Other boardsports require wave and wind power Skimboarding can be done in any weather conditions the advent of the Skimboard finally gave Surfers something to do on the calmest of days.
What Is A Skimboard?
Skimboards a smaller and thinner than surfboards, they are mainly oval and don't have fins. The boards are flat with a curved nose (front), and a slightly curved tail (back) flatter noses (less curve) are better for shallow water while steeper noses are better for the waves.
Skimboards are between 45-55 inches long and between 19-22 inches wide made from either wood (the cheapest and most durable of skimboards) foam (a foam core covered in epoxy resin or carbon, for the serious skimboarders choice).
Wood boards are cheap and strong ideal for beginners and shallow water riding such as the edge of the shore.
Wood boards have flatter noses are usually constructed from 5-7 ply poplar wood and are not as buoyant as foam core boards which are flexible and better for riding out into the waves, they are however more expensive and more breakable, better suited to the more experienced skimboarder.
Skimboards are available with different shaped tails the most common is the pintail (a pointed end) other tails include the square tail (flat ends) and fish-tails (specially shaped for tricks)

Who Makes Skimboards And How Much Do They Cost?
Skimboards are for sale from several manufacturers the price ranges from £20-£399 the cheaper boards are ideal for the beginners who want to give Skimboarding a go in shallow water. Spend a bit more money and you can get a board that'll ride both the shallows and the waves.
Circle One Skimboards are probably the most popular boards on the UK market. Circle One are best known for their high quality Surf Boards and their Skimboards live up to the standards of their larger counterparts with a range of Boards made from wood, epoxy resin and carbon in seven different sizes from 39-56 inches.
There are two wooden skimboards the 30 inch ABC Turtle which is for kids and the 39 inch ABC Stripe for larger kids and even light adults (up to 50kg), both boards are aimed at beginners who want to sand–skim. Both boards represent great value for money costing under £30.
Circle One two colour Skimboards are the next up in the range suitable for both sand–skimming and going out in the waves. A fast bored with excellent strength to weight ratio that's suitable for keen begineers and advanced riders.
Constructed from fibreglass they are available in sizes 43, 46, 50, 52 and 54 inches a board for everyone between 45 and 110 kilos (please see the Circle One size chart to find the right length board) in the colours, red, green or blue.
The EPS Stripe Skimboard has been made for wave riding, it will skim across sand brilliantly aswell. Built with an EPS foam core and layers of fibreglass with a hot coat finish this is a serious board that'll give you years of service.
54 inches for riders upto 100 kilos. Available in blue, green and red. Finally from Circle One the top of the range Carbon Fibre Epoxy Skimboard a fusion of carbon fibre technology and epoxy resin laminate forms the ultimate in strength to weight ratio, super light and super strong the best of both worlds.
The Carbon Fibre Board is for intermediate and advanced Skimboarders it isn't cheap but it's among the best one available on the UK market. Available in sizes 50, 52, 54 and 56 inches. Cobalt Grey.
Established in 1983 Zap Skimboards have made hundreds of thousands of Skimboards by hand at their workshop in Venice Florida. Zap offer 20 different Skimboards with a board for everyone no matter their skill level.
Designs include the 'Lazer' a small skimboard for children, 'Wedge' a beginners board, 'Fish' one for those who want to learn the art of waveriding, the 'Ace' a high performing skimboard at an affordable price, the wave shredding 'Fuse-X' and the super fast 'Hellcat' .
Zap Boards are available in a wide range of materials such as Composilite, Supadura, Gatorskin, Carbon Fiber and E-glass in a range of finishes such as Tuff Coat Gloss, Epoxy Texture and Polylam Texture.
DB Skimboards hit the scene in 2003 when a group of friends in Washington got together and decided to create the best Flatland boards on the planet. DB offer starter Skimboards, Flex Boards, Standard and Pro Skimboards.
The starter Skimboards are actually very high qaulity aimed at children, beginners and intermediates. The Plank Proto is the cheapest board in the DB range and is available in small, medium and large constructed from 3 Ply Poplar Hybrid Layup and HPL the planks have a 6/10 flex and are gripless so wax will be needed.
Alder was founded on a farm in Devon in 1969 by a couple who combined their obsessions of Surfing and Sewing spawning a range of clothing targeted at Surfers. Over the years the company evolved producing wetsuits, surfboards, bodyboards and of course Skimboards.
Alder Skimboards include the Ignite EVA Skimboard made from wood and fully covered in grippy EVA available in sizes 36″ and 41″ in the colours blue or red. The Delta Wood Skimboard's constructed from marine grade 9mm plywood, 39″ in length with a two-tone blue or red with white stripes design on the front and natural wood grain on the bottom. Alder skimboards are very reasonably priced, a good choice for the beginner.
Jucker Hawaii is primarily a longboard company who's products reflect the dream of the Hawaiian lifestyle, the companys run by two freinds surfing, skateboarding and snowboarding fanatics.
The Jucker Hawaii range features Skimboards that are very popular on the European market. The Ohana boards a great allround board that works on the beach , lakes and rivers made from waterproofed 5-layer poplar wood.
The Ohana is a natural wood finish and requires wax. A version with a black grippy finish is also available. The Puna and Ulua Skimboards are a similar shape to the Ohana available in various graphic designs.
Osprey is a UK watersports company who started out in 1994 supplying the surf shops of Devon and Cornwall with wetsuits and surfing equipment. As the business grew so did the range of products, including Osprey Skimboards.
The 'Skimmer' range are all a pintail shape and 41 inches long, suitable for both children and adults. Constructed from 5 ply poplar plywood deigns include zig zag, rasta flame, skimmer retro and skimmer waves. The Biscuit skimmers are circular in shape with a 17inch diameter made from seven layers of plywood, available in colours yellow, aqua and green.
Two Bare Feet opened 25 years ago on Torquay High Street supplying local water sports fans with alternative but great equipment. Products have been developed overtime with the input of loyal customers many of which actually use Two Bare Feet Skimboards.
All boards are lightweigt constructed from 7 ply poplar with a smooth laquer finish. Shapes available include classic, pintail and swallowtail, all boards have a pre curve nose. Available in various designs in sizes 36 or 41 inches.
Other Skimboard manufacturers include Bugz, Skim One, Slidz and Surf Quest
What Do You Need To Skimboard?
All you need to skimboard is
A Skimboard
Swimming/board shorts or a wetsuit
Wax (unless your skimboard has a grippy surface)
Some flat sand or mud with a thin film of water
The Skimboard itself is the most important item (obviously) you're going to get wet standard swimming shorts or board shorts are more than adequate if it's cold you might want to opt for a wet suit.
All skimboards have a smooth base to skim across the sand/water. Many decks (top of the skimboard) are smooth also in which case you'll need some surfboard wax, don't make the rookie mistake of jumping onto a slippery moving skimboard it'll only end in a fail and maybe an accident.
Wax's used on the deck so the feet can grip the board without slipping. Some skimboards have a grippy deck, so no wax's required.
Skimboards are light and easy enough to carry and store bags are available for extra carrying and storage convenience, although many Skimboarders simply carry their board under the arm.
Remember to stay hydrated running and jumping on board is physical exercise and a dehydrated body's much easier to injure than a well-hydrated one; thus it's recommended you have a drink to hand aswell.
All you need to do now is choose a Skimboard, find a suitable area and get practicing