Buying a Cheap Skimboard is your best option if you want to start Skimboarding without breaking the bank.
Here we have a range of Skimboards for under £50. Don't be fooled by the price. Even though these skimboards are inexpensive, solidly constructed, they are easy to skim with and should give you several seasons of use.
Click Here For Cheap Skimboards Prices & Availability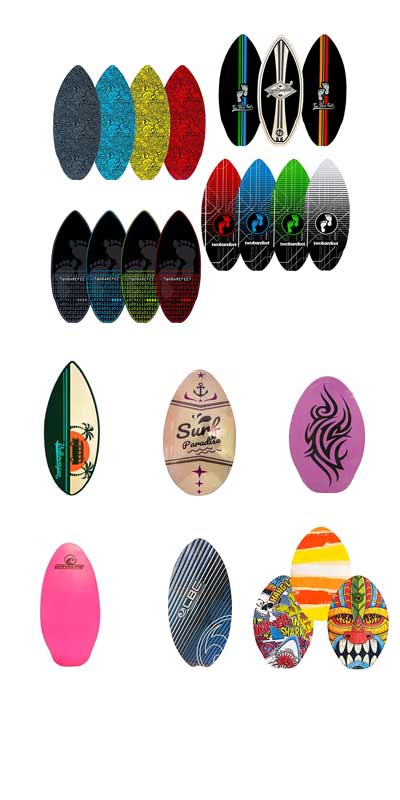 Two Bare Feet Cipher Skimboard
The Two Bare Feet Cipher board is a bestseller amongst beginner skimboarders. Available in various eye-catching designs, all boards feature a nose pre-curve.
The cipher is 41″ long and constructed from 7-ply poplar, treated and finished in smooth lacquer to protect against saltwater.
Board Masters 41″ Skimboard
A mid-sized skimboard for children and lighter adults. The boards constructed from 7-ply poplar wood and feature a pintail design. The best shape for learning on and improving your skills once you have mastered the basics.
Available in 3 designs featuring VW camper vans#
Bob Gnarly Surf 30″ Skimboard
A short oval-shaped board of 75cm in length. Although short, the board still maintains a good level of flex for turning and performing tricks.
Available in 3 designs
Sunspecs Rubber Top Skimboard
The Sunspecs Skimboard features a rubber-coated surface, so you don't need to wax the board. Available in 3 sizes 31″, 36″ and 41″, for riders up to 120, 160 and 200lbs.
5 Colours to choose from
Waveline Neon Skimboard
Waveline Skimboards feature a square tail design and are constructed from high quality treated wood.
Available in sizes 30″, 36″ and 41″
Available in f neon colours which include green, pink, orange and yellow
California Board Company Skimboard
This skimboard has a fishtail and a coated traction deck featuring California Board Co graphic.
Available in sizes 36″ and 41″
Yello Skimboards
Small 30″ 9-ply maple wood construction Skimboards with the choice of 3 colourful designs. An ideal beginner Skimboard for children.