A Skimboard & Surf Wax comb is a must-have accessory for all Skimboarders and Surfers. A double-edged tool that serves 2 functions.
Toothed Edge – Use to create lines in the wax of your board, providing grip
Sharp Edge – Use to remove old wax from the surface of your board
Skimboard wax combs are inexpensive, lightweight and are easy to store in your bag or pocket.
Click Here For Skimboard & Surf Wax Combs Prices & Availability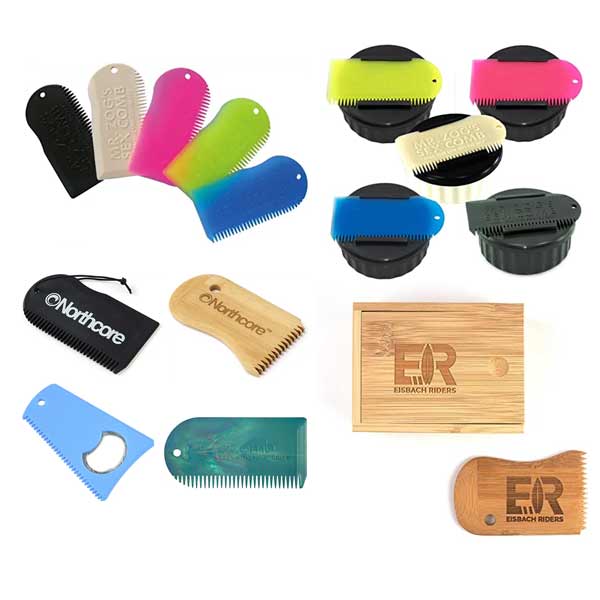 The best wax combs include
Mr Zogs Sex Wax Comb
Mr Zogs Sex Wax Comb is an ergonomic shape with a toothed and flat edge, a rounded top with a hole to attach to a keyring. Available in 5 colours.
Mr Zogs Sex Wax Pot & Comb
The same comb as above attaches to a pot that holds one block of the legendary Sex Wax. Now you can always keep your wax and comb together.
Northcore Wax Comb
North core combs are available in standard shaped plastic or bamboo for the environmentally conscious. Both can be attached to your keyring.
Alojemor Wax Comb
A three-sided wax comb, a jagged edge for roughing up wax, a straight edge for removing wax and a concave edge for rail work. Finished with a lanyard hole.
Ecomb
The Ecomb is constructed from 100% reclaimed marine plastic. Features deeper teeth than the other combs shown.
Eisbach Riders Bamboo Comb & Box
A 100% biodegradable bamboo wax comb and box with magnetic closure to store your wax.
Click Here For Skimboard & Surf Wax Combs Prices & Availability