Fibreglass Skimboards are the number one choice for intermediate riders who want to progress their skimming skills and take their Skimboarding out onto the waves.
Fibreglass Skimboards are incredibly lightweight, easy to drop and offer improved stiffness, feedback and control over conventional wood Skimboards. The fibreglass construction is thicker than plywood with a foam EVA core. The extra buoyancy allows the board and rider to handle waves.
Fibreglass Skimboards are less forgiving than flexible wood Skimboards and, therefore, easier to snap (they are still very durable though just not as much as wood), so if you're a beginner, a wood Skimboard may be a better option.
Suppose you are an intermediate who has picked up the basics of sand skimming. Go ahead and get yourself a Fibreglass Skimboard and take your skills to the next level.
Click Here For Fibreglass Skimboards Prices & Availability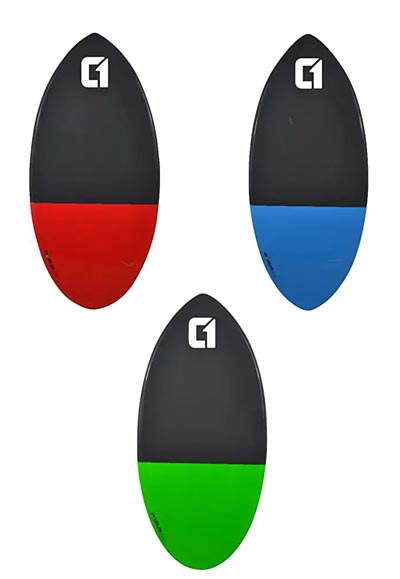 Fibreglass Skimboards Include
Circle One Epoxy Fibreglass Skimboards
Circle One Epoxy Fibreglass Skimboards are made to a high specification and cover all disciplines of Skimboarding, such as skimming the sand, crossing shallow pools and riding the deeper water amongst the waves. Advanced riders use this Skimboard to perform tricks also. A
All bases are covered with this high-quality all-around Skimboard that will serve your whole Skimboarding career well.
Many features include a round tail, high-density foam core, unidirectional wood stringer, epoxy resin laminate, crosslink reinforcement and more.
The Circle One Fibreglass Skimboard is available in 5 sizes ranging from 43″-54″ to accommodate all riders up to 100kg.
Radbug 900
The Radbug 900 is a premium Skimboard used by intermediate and advanced riders on the sand and the waves.
The board is composite fibreglass over a polyurethane core, finished with epoxy glazing. The deck features rocker adjustment and sharp rails with a slimmer nose and back for better control and manoeuvrability.
Ideal for riders weighing between 55-85kg
Victoria Foamie
Victoria is a pioneer in the world of Skimboarding, the first firm to bring the foam to the market, and the Foamie Skimboard is a great example. The board has a foam core that's wrapped with fibreglass.
Available in two sizes for riders up to 130 & 180lbs
Slapfish Fibreglass Skimboards
Slapfish Skimboards are handcrafted fibreglass with a precision-shaped rocker. The deck is reinforced at the nose and tail with carbon and has an ultra glide bottom providing longer rides. In addition, the tail includes a built-in EVA foam pad for improved grip.
Available in Small, Medium and Large sizes to accommodate all sizes of riders and their preferred Skimboarding disciplines.
Wave Zone Skimboards
Wave Zone Skimboards have a foam core and fibreglass build with a gel coating. Wave Zone Skimboards are hand-finished and available in various lengths and designs, catering for beginners and intermediate and advanced riders of all sizes.
Fedmax Skimboards
Fedmax Skimboards are constructed from fibreglass and feature carbon reinforced nose and tail. The nose is shaped to prevent nosediving, an essential element when learning to Skimboard or wave ride.
Includes a three-piece EVA traction pad grip set for the deck so you won't need wax.
Shakas Skimboards
Shakas Skimboards are made here in the United Kingdom in Anglesea, Wales. The decks have an EPS core covered in a double layer of fibreglass and finished in premium epoxy resin.
An excellent Fibreglass Skimboard for both Skimming and Wave work.
The Skimboard is 52″ in length and is available in multiple designs.
Liquid Shredder Fibreglass Skimboards
Liquid Shredder supplies pocket-friendly fibreglass Skimboards that are perfect for beginner and intermediate sand skimming. The decks have a sandwich matrix construction and are coated with epoxy resin.
The Liquid Shredder is 32″ in length.