Foam Skimboards are often used by intermediate riders who have mastered the art of sand skimming on a wooden board and want to develop their skills, skim further and maybe go out into the waves and even learn some tricks.
Many advanced riders use Foam Skimboards built to ride waves, travel and skim for decent distances on the sand.
Foam Skimboards are lightweight yet tough. They are stiffer and more responsive than wooden Skimboards, which are better for turning, riding and tricks, giving the rider superior feedback.
Click Here For Foam Skimboards Prices & Availability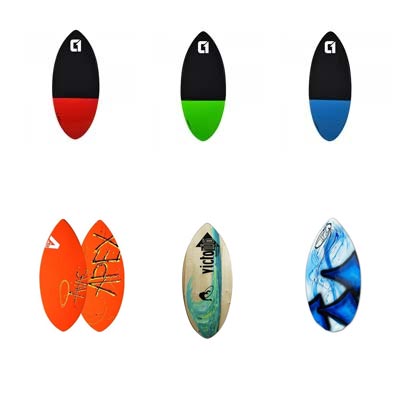 The extra stiffness and improved responsiveness of foam Skimboards work great for riders with some experience under their belt. Still, they are less forgiving of mistakes and technical errors, something to bear in mind if you're a beginner.
Foam Skimboards have a foam core and are usually covered in fibreglass and finished in a waterproof coating, such as epoxy resin. The design is light and easy to run with but not too light the wind takes the board when dropped.
Foam Skimboards Include
Circle One Epoxy Skimboards
Circle One Epoxy Skimboards are great for the sand and the waves, a good all-round board built to a very high quality.
The Skimboard features a High-density foam core layered with Porcher E-glass, an epoxy resin laminate with a hot coat outer shield finish.
Decathlon Radbug
The Decathlon Radbug is a foam Skimboard designed for juniors to learn Skimboarding and wave riding.
Ideal for riders aged 6-14 years old weighing between 20-55kg
The Skimboard measures 115cm x 44cm and weighs 2kg
Apex Skimboards
Apex Skimboards feature a high-density foam core woven with E-glass fibres.
Moderate flex ensures the Apex is a good board for all riding styles and beginner to advanced levels with different sizes to suit different styles.
There are four sizes available for different rider weights. Each size has its own thickness.
36″ – For riders up to 100lbs, perfect for beginner sand skimmers
41″ – For riders between 40-120lbs, ideal for those who want to transition from sand skimming onto wave riding
46″ – For riders between 60-160lbs, An all-around Skimboard for skimming and wave riding
51″ – For riders 120-210lbs, The same thickness as Apex pro-Skimboards, stiff and responsive
Victoria Skimboards
Victoria was the first Skimboard manufacturer to bring foam core to the market and has been emulated many times since.
Victoria offers the 'Foamie Skimboard', which has a foam core and fibreglass wrap, available in two sizes for riders up to 130lbs and 180lbs.
WaveZone Skimboards
Wave Zone build Skimboards for all levels of rider ranging from beginner to professional.
Wave Zone Skimboards have a fibreglass-covered foam core and a gel coating.
Available in lengths ranging from 37″-57″ for all rider weights.
Body Glove Stringer
The Body Glove Stringer Skimboard is bought for you by the company that invented the first wetsuit.
The Skimboard is constructed from 40″ 1A foam coated in glass fibre.
A pro board for riders between 60-90kg