Skimboard Bags protect your skimboard from damage when transporting, which is especially important when taking your board on holiday.
Bags also make Skimboards easier to carry to the beach.
Here are the best Skimboard Bags currently available in the UK
Click Here For Skimboard Travel Bags Prices & Availability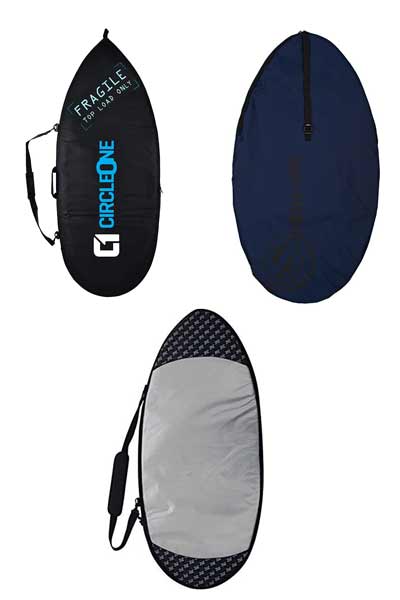 Circle One Skimboard Travel Bag
A heavy-duty Skimboard travel bag constructed from durable Cordura fabric and lined with 5mm density foam padding which will protect your board from knocks and scrapes.
Each bag is marked with 'Fragile top load only' which will inform baggage handlers at the airport. The bag has a large opening with a high quality nylon zip and features a carry handle and strap.
Suitable for Skimboards up to 56 inches
Bags are black but are available in logo colours blue, green and red
Skim One Skimboard Backpack Bag
A handy Skimboard bag fitted with adjustable backpack style straps so you can carry your board on your back leaving your hands free for other items.
The bottom of the bag is mesh so water can escape, the bag also features a handy pocket.
Made from dark blue polyester and PVC lined
Suitable for skimboards up to 46 inches
Zap Skimboard Bag
The Zap Skimboard Bag is made from heavy-duty materials with thick padding and built-in nose and tail protection.
The bags feature a heavy-duty zip, carry handle and detachable shoulder strap
The bag will hold up to 2 Skimboards
Available in sizes 53, 57 and 61 inches