Pro Skimboards are built to the best possible specifications with the finest materials. Pro Skimboards are primarily for professionals and advanced regular skimboarders.
Pro boards are also a good investment for keen riders who want to develop their skills and reach their full potential as a Skimboarder.
Click Here For Pro Skimboards Prices & Availability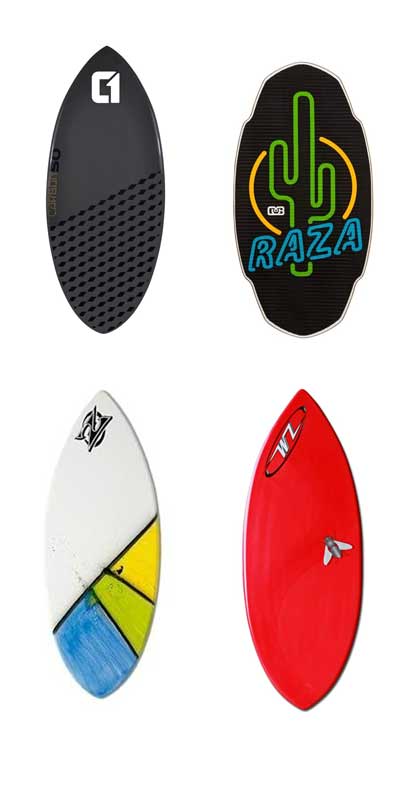 Pro Skimboards Include
Circle One Carbon Fibre Epoxy Skimboard
Cutting edge carbon fibre technology used in conjunction with premium epoxy resin creates an extremely lightweight yet very strong Skimboard.
The Circle One Carbon Fibre Epoxy Skimboard is light yet rigid with lower flex than conventional skimboards, which allows for faster feedback and more responsive turns and manoeuvres.
This Skimboard allows riders to skim great distances at speed, perform many tricks, and handle wave riding with ease.
The cobalt grey carbon fibre design looks and feels stunning.
Features Include
6oz carbon fibre across the deck and rails
Porcher E-glass layered for excellent strength
Crosslink reinforcement
Hot coat finish
Epoxy Resin Laminate
EPS high-density foam core
Full-length wood stringer
Available In Sizes
50″ – For riders 65-80 kg
52″ – For riders 75-90 kg
54″ – For riders 80-100 kg
56″ – For riders 90-110kg+
DB Raza Pro Skimboard
The DB Raza Pro Skimboard is based on pro-Skimboarder Adrien Raza's unique shape. This Board is perfect for all manner of Skimboard tricks, including those involving multiple turns boxes and rails.
The board's constructed from stiff maple for a lower than normal flex. Coated in white HPL top sheet to ensure the boards base stays white and doesn't turn brown.
The surface of the board is coated in super cush foam traction.
Zap Pro Skimboard
The Zap Pro Skimboards based on the popular 'Ace' pintail shape. A rock-solid build comprising composite and polyester resin finished in Tuff Coat Gloss.
Available in sizes 52″ for riders up to 200lbs and 54″ for riders up to 220lbs
Wave Zone Fly
The Wave Zone Fly is a skimboard for advanced riders featuring a broad midsection for smoother riding speed and improved balancing when performing tricks.
The board is highly sensitive with minimal flex. Constructed from high-density level 4 PVC foam which is reinforced with double poly wrapped rails.
Available in sizes 49″, 51″, 53″ and 55″