Skimboards require grip so you can stay on your board and ride effectively and safely. You have two options
A standard Skimboard that'll require waxing (which is time-consuming and tricky for beginners)
A Skimboard with grip that doesn't need waxing (so you  can go straight to the beach and start skimming)
Here are a range of Skimboards with built-In grip
Click Here For Skimboards With Grip Prices & Availability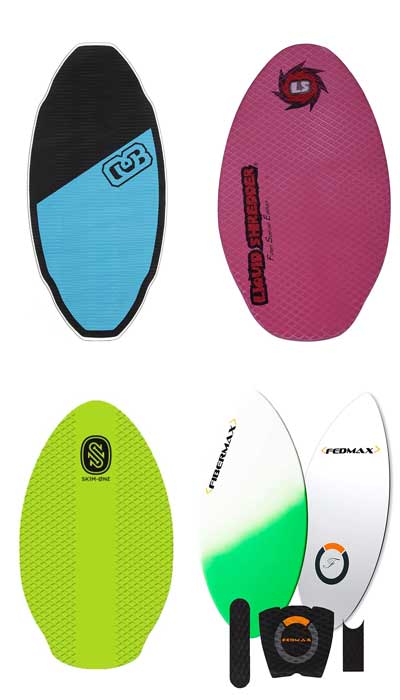 Fedmax Skimboards
Fedmax Skimboards are made from fibreglass with carbon fibre reinforcement in the nose and tail. A lightweight board that's ideal for intermediates and beginners. Advanced riders will also find this board perfect for wave riding and performing tricks.
The Board features a three-piece set of EVA traction grips
Skim One Eva Deck
Skim One EVA Deck Skimboards are constructed from pressed 7-ply poplar wood that's been treated to withstand the rigours of saltwater.
The deck is fully EVA lined for maximal grip
The boards 41″ long and will accommodate riders up to 90 kilos in weight
Liquid Shredder Wood EVA Deck
The Liquid Shredder Skimboard is constructed from solid wood that's been epoxy coated to ensure waterproofness.
The boards 41″ long
The deck's fully coated with a laminated EVA grip, so no wax's needed
DB Skimboards Flex Proto
The DB Skimboards Flex Proto is available in two sizes small 39.4″ for riders up to 140lbs and medium 41.5″ for riders up to 155lbs.
Constructed from 3-ply hard rock maple, which is lightweight but flexible for easy manoeuvres
Coated with CNC machined EVA foam which is extra grippy and provides nice cushioning
Sandfish Traction Cruiser
The Sandfish Traction Cruiser are lightweight poplar skimboards with excellent flexing properties. The perfect board for those who have learnt to skim and want to progress into moves and tricks.
Covered in soft grippy foam
35″ Long, a good Skimboard for children