Victoria Skimboards are handcrafted in Southern California, established board makers with many decades of experience.
Victoria was the first company to bring foam Skimboards to the market, a material now commonplace in the world of Skimboarding.
Victoria makes Skimboards for riders of all levels, Beginner, intermediate, advanced and pro.
Click Here For Victoria Skimboards Prices & Availability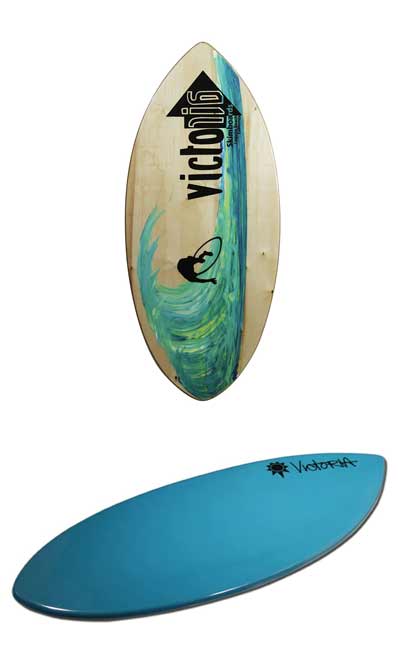 Victoria Woody Skimboard
The Woody Skimboard is a renowned classic ideal for those learning the sport, perfect for sand skimming and dealing with small waves.
A range of sizes is available to accommodate all weight classes of riders from 30-210lbs.
Constructed from Russian birch hardwood and polyester resin. The board is a pin shape and features a low rocker for increased sliding distance.
Victoria Foamie Skimboard
An excellent priced foam core Skimboard with a fibreglass wrap. Incredibly strong and light with a bigger surface area than standard wood boards allowing for easier skimming.
Available in medium 48″ for riders up to 130lbs and larger for riders up to 180lbs
Victoria Glide Skimboard
The Glide is an intermediate board constructed from mid-density PVC, E-glass and polyester resin. A pintail shape with an untapered core, mid rocker and hybrid rails.
The Glide provides a good balance of speed and manoeuvrability in the shoreline while allowing riders to experience waves also.
Available in sizes 44.5″, 46″, 48″ and 49.5″ for riders between 50-180lbs